How to make a dramatic difference to team performance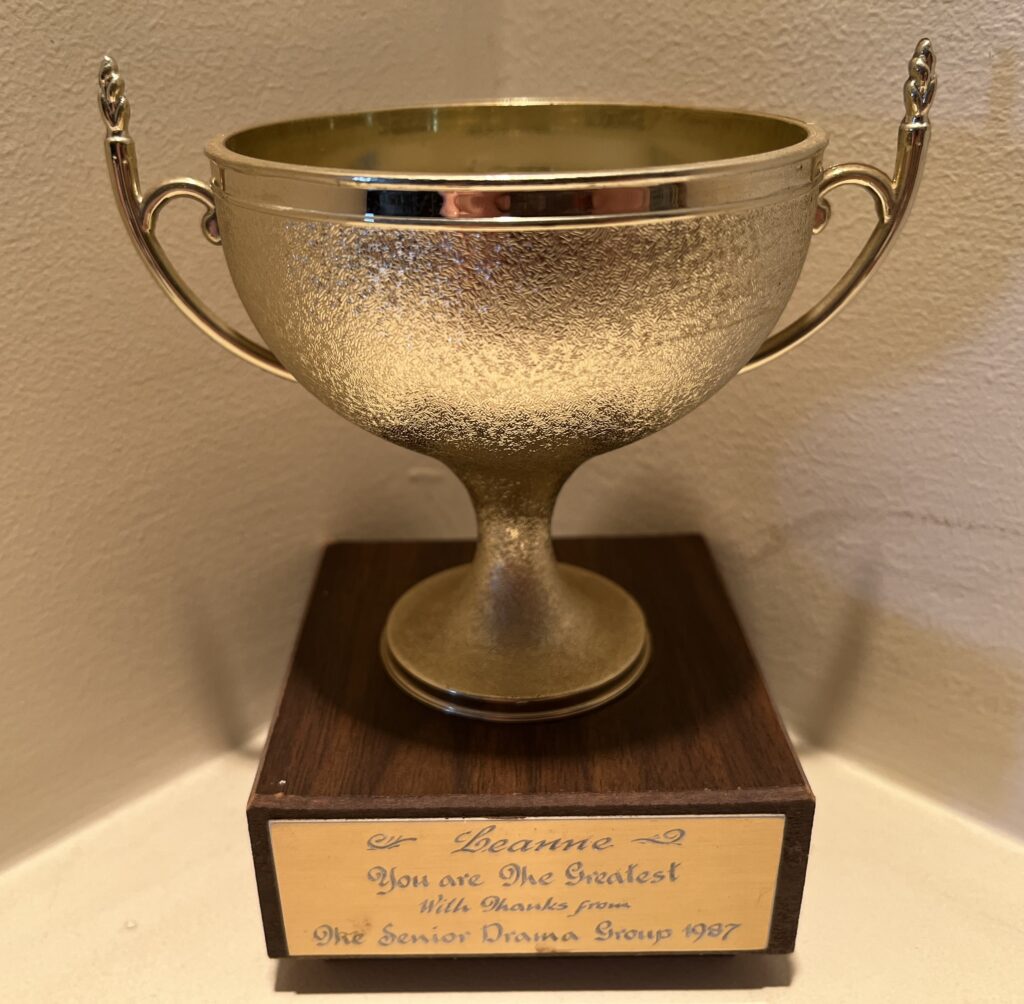 The hype leading up to the Melbourne Cup this week jogged a memory from another lifetime, and it got me thinking about cohesion as an indicator of a winning team.
How do you recognise strong team cohesion?
Does your lineup match mine?
If you know me, you won't be surprised to find out I was once a drama teacher. (Whenever I'm accused of being a drama queen, I reply, "And I have an Honours degree in Theatre Studies to prove it!").
At the Warringah Eisteddfod one year, my students seemed to win more awards than Ben Hur and I jokingly commented that the drama teachers deserved to get trophies too.
Not sure if it was a student or their mum who heard me, but what my Beacon Hill Youth Club 12-year-olds gave me at the end of the year remains the Best. Teacher's. Gift. Ever.
So here's what the memory triggered about team success.
Just like an ensemble cast, an effective team performs with….
Strong connection to the purpose or goal through shared values

A common desire to fulfil that purpose/achieve the goal

Belief that what they are doing will create value for the audience

Willingness to be directed

A single, not split focus

A shared mental model for situation awareness – everyone has the same idea about what's going on, what needs to be done, and how to make it happen

Mutual trust and respect for each other's role

In-sync timing and tone

Confidence – feeling safe to play their parts

Active listening (they must listen to each other so the performance works, progresses and shares meaning with the audience)
What the research tells us:
I haven't just fielded these characteristics from my experience – plenty of research has revealed just how much of an impact slack team cohesion has on productivity and performance.
In HR Magazine's report, "a study of 4,000 employees showed almost half (46 percent) were unsure of what was being asked of them by their line manager when given tasks and over a third (37 percent) experienced this uncertainty between one and three times a day. Employees estimated this resulted in up to 40 minutes of wasted time per day – the equivalent of 83 employees in a company of 1,000 doing nothing every day."
In the Forbes Advisor "State Of Workplace Communication In 2023" report, almost half of the 1000 research respondents said ineffective communication impacts their productivity and stress levels. For 38 percent, it also affects trust in their team.
And… action!
With an ensemble approach focusing on inclusivity and collaboration, what can you as the team 'director' do to tighten team cohesion?
Players need to know the script or story to be told. Communicate the goals clearly and consistently so everyone can picture themselves in position for moving the story along.
Your players know their lines, but it's your job to guide how they deliver them for the desired effect without micro-managing (you don't see the director on stage, do you?). If the directions don't make sense to the players, they'll talk and trip over each other.
Ensure everyone can recognise their roles in relation to others – to see how, when and where their strengths will advance the story line and help others contribute their part (and not waste time or resources duplicating effort unnecessarily).

(In "Why teams don't work," published in Theory and Research on Small Groups, Harvard University's Professor J. R. Hackman suggested that "avoiding mistakes and obstacles requires answering fundamental questions of who decides, who is responsible, who gains, and who learns.")
Create opportunities to rehearse together, to workshop scenes and fail safely before presenting the final outcome. When players feel more confident and comfortable with improvising, more "aha!" moments are discovered.

(A Fierce, Inc. survey revealed that 86 percent of 1,400 workers and managers attribute workplace failures to a lack of collaboration and ineffective communication.)
Train up understudies. Ensemble players need to be multi-skilled to step in when "life happens" so the show can go on.

(According to Lorman Education Services research from sources such as Gallup, PWC and Harvard Business Review, 76 percent of millennial workers regard opportunities for professional development to be the most appealing aspect of a company's culture.)
Always acknowledge the front-of-house and backstage crews. While they may not be motivated by the limelight, nothing sounds right, looks bright, or feels real without their seemingly invisible efforts.
Take a bow – celebrate successes and accept recognition and appreciation together and you'll hear the request for "Encore! Encore!".
I haven't taught a drama class for a long time, but I do ensure my workshops are edutaining.
If you want to know how I help teams become more cohesive so they can be effective and perform like an award-winning ensemble, book a complimentary Tell Me More call.